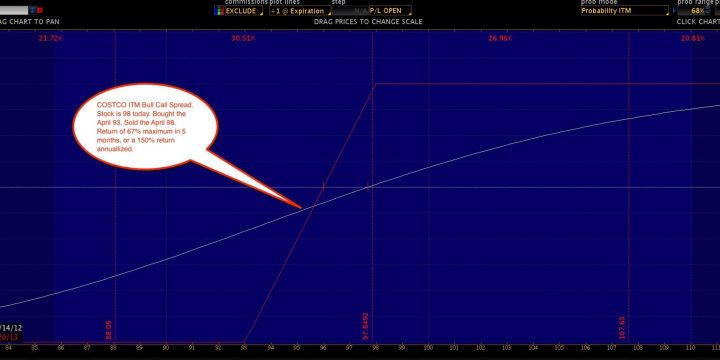 Costco Bull Call trade (COST)
As expected, Costco (COST) has settled into its ex-dividend price of $98, after its $7 dividend. It's been at this level for a couple of days. In the medium term, I expect COST to recover this drop as it's a very strong stock.

So here's the Trade idea – Long Bull Call Trade on COST. But here's the twist – this is an In The Money Bull Call trade
Strikes – Long 93, Short 98 in the April Series (5 months for expiry)
Long 93 Call – Debit of $7.2
Short 98 Call – Credit of $4.2
Net Debit = $3, Max Reward = $2, Max Return = 67% in 5 months
10 Contracts, Net Debit (and max risk) is $3000.
So what's the twist ? This is an ITM Bull Call i.e. The 93 Call is fairly deep in the money, and the 98 Call is exactly At the Money.
The "edge" in this trade is that this spread already has an Intrinsic value of $5, because COST is trading at 98 right now. But we pay only $3 for this spread. So we get a $2 edge on the get-go. What this means is that even if COST falls by $2 and expires at $96 in April, we would not lose any money on this trade. If it expires anywhere above $98 (and its at $98 right now), we make our maximum profit of $2/share or 67% return in 5 months. COOL !!
---
Share this Article
---